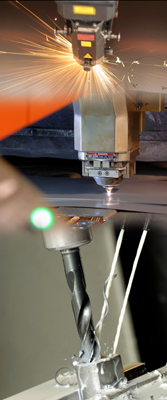 At our custom furbished factory in the North East of England you are assured of the perfect result for your Steel Tool Soluton. Take a look at some of the features you will benefit from.....
6000 SQFT workshop and offices.

CNC turned parts.

CNC punching (HACO) with TPC 25 graphic controller, plate capacity 3000 x 1500 up to 6mm thick capable of cutting within .03mm tolerance.

ERMAKSAN 3.1Mtr x 160 TON 4 AXIS CNC PRESS BRAKE

GUIFIL 1500mm 35ton 2 axis CNC Press Brake.

2D and 3D CAD/CAM software.

RADAN 2D Drafting and CNC Punch programming, one of the industries leading Sheetmetal software programmes.

Solidworks 3D design software constantly updated to latest release.

ERMAKSAN 3.1Mtr x 6mm DNC GUILLOTINE

EDWARDS 1800mm x 4mm sheet metal rolls.

WELDING MIG/TIG + MMA

PLASMA portable cutting units.

PULLMAX cutting and forming.

WALTER ECKOLD stretching and shrinking for Complex Double Curvature up to 4mm capacity.

SECTION CUTTING with powerfeed and blade presure sensing.

FULLY equipped polishing and grinding facilities.