Radan Efficiency for UK's 'Number One Steel Toolmaker'
We have recently been featured in a recent case study by Radan – world class CAD / CAM solution for the sheet metal industry. Please read the following article:-
A company regarded by its customers as being the UK's Number One Steel Toolmaker, says it could not have gained that accolade without using Radan – the world's most powerful sheet metal CAD/CAM software.

Steel Tool Solutions Ltd specialises in manufacturing high quality moulds for rotational moulding. With steel rotational moulding tools costing less than one-fifth of their injection or blow moulding equivalents, the industry has grown rapidly over recent years and Steel Tool Solutions Ltd is growing with it.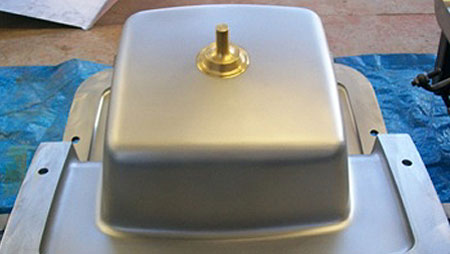 With rotomoulding, the customer puts polymer plastic granules into the mould, which is then placed in an oven and rotated, usually around two perpendicular axes. When heated, the softened plastic is thrown against the sides of the mould, and hardens into the rigid product in a cooling chamber. It keeps spinning throughout the heating and cooling cycles.

Formed in 2006, the North Shields-based company's meteoric rise in the rotomould world has seen it become a Tier 1 supplier for many customers in a number of industries across Europe. Its moulds are cut from 2mm, 2.5mm and 3mm mild steel, using a Haco Omatic 130R punch press with 3-metre x 1,500 bed and fully auto-indexing head, driven by Radan.

Customers use the bespoke moulds to make plastic products such as oil storage tanks, roadside grit bins, litter bins for streets and petrol forecourts, garage displays for barbeque briquettes – and even for a plastic boat that was three metres long and half as wide. "The customer's product is only as good as the tool it comes from, so the moulds we provide for them have to be of the highest quality," says managing director John Blewitt.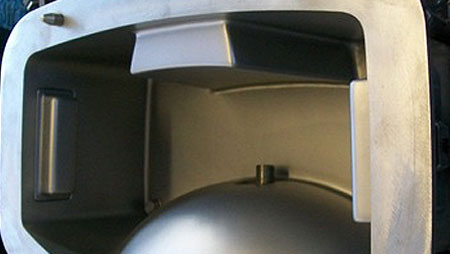 "We can apply textures to the inside of the mould if required i.e. commercial 120 grit, polished, etched, glass / sand / or grit blasted or often a combination of finishes to achieve the surface finishes that the customer may require on their product; quite often the customer will require their name / contact details / brand logo on, which can be engraved directly onto the tool surface or can be removable to allow the fitment of different dies. These have to be engraved or etched in reverse on the mould so they come out the right way on the fully-functioning plastic part." He explains that Radan plays a vital role in machining their highly complicated parts. "We couldn't do the complex work without Radan as it works so well in conjunction with the 3D software."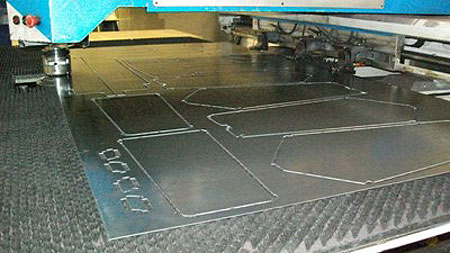 A wide range of factors, including understanding the rotomoulding process, the tooling performance and requirements, the complexity of the double curvature often required, and the surface finishes / branding mean it is such a complex and specialised procedure that John Blewitt believes the expertise and knowledge along with embracing technical advances with their Radan partnership give STS the enviable status voted by its customers as No:1 Steel Toolmaker in the UK capable of producing the top class moulds that customers require. "We are an extremely customer focused company and believe that is the corner stone of our success. This philosophy has seen our customer base spread right across Europe, including the UK, Southern / Northern Ireland, France, Germany, Denmark, Iceland and Poland, and is testament to the forward thinking and expertise found right here in the North East."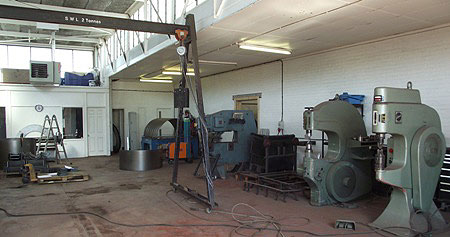 John Blewitt and his team have worked in the industry for around 25 years, and he handpicked his fellow directors for their experience and skills when Steel Tool Solutions Ltd was established. "Everything we do is based around the accuracy that Radan gives us. It helps us produce complicated moulds in steel that other toolmakers would not attempt and said could only be produced in cast aluminium. We've recently completed a project for a customer in the UK who had an existing cast aluminium tool because of its complexity. We built an identical steel tool at around half the cost, and he couldn't tell which of his products came from which mould."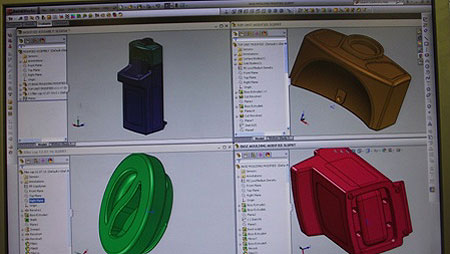 Once SolidWorks has broken the product model down to the tool model they input the drawings and sections into Radan as dxf files. Radan then completes the pattern development, and tools the patterns for the CNC on the Omatic. Radan's powerful nesting function is of paramount importance to their manufacturing process because of the irregular shapes of the components to be machined. He says it also helps them to nest parts within parts, achieving maximum material utilisation.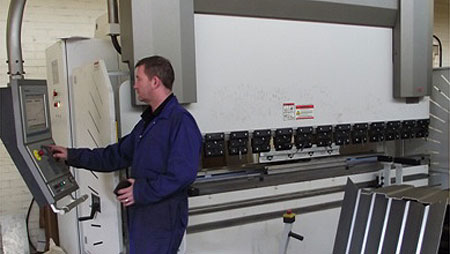 After the patterns for the moulds have been cut on the Omatic, they go to a recently-installed Ermak 4-axis CNC press brake. At the moment this is programmed online with the machine's own software, but STS are seriously considering speeding up the folding process by using Radbend. While the Ermak is faster than their previous manual press, he says: "It's still time consuming, though, to program it online, and the machine can't be used for manufacturing while it's being programmed."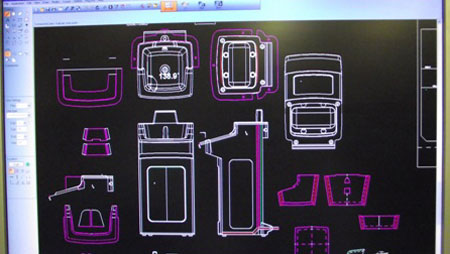 They have three stations of Radan's cost-effective draughting module, Radraft – which provides a comprehensive solution for drawing preparation and geometry manipulation – along with a floating license of Radpunch as they have three programmers. "We deal mainly with 3D models, producing the patterns directly from those, and ensuring the accuracy of the tools all the way through the process. As the programmer brings the patterns into Radraft and Radpunch, it would make sense that the press brake is programmed centrally as well. It would also keep the production line flowing by freeing the machine for bending while it's being programmed."

As well as looking to drive the Ermak with Radan, he is considering investing in a laser cutter, which he says would also be driven by Radan. "Radan has the full flexibility to drive additional machines as the company grows, and is fully adaptable to meet our customers' needs. We can have any number of machines from all manufacturers, and it will be very easy within Radan to select the machine that the job is going to. Once the CNC codes have been created, any operator from any of our three stations will be able to switch to any machine, whether it's a punch, laser or press brake."

Historically a toolmaker would usually talk to the moulder producing the part, about any technical issues; with the moulder talking to their own customer in turn. At STS their customers found it to be a huge benefit that STS – given their knowledge and use of software – liaise directly with everyone, to understand and answer all technical aspects of the project. This ensures each of the three links in the chain is aware of the others' needs and processes.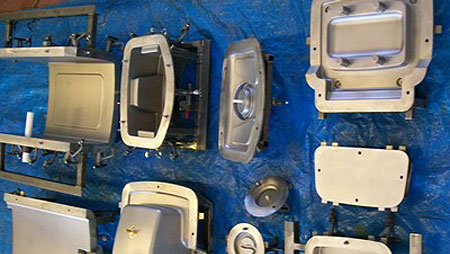 "It's important we know exactly what the customer wants from their end product, but it's also important that we understand the individual rotomoulder's specialist process so we can design the mould taking all those factors into consideration. Our competitors may use 3D software as a visual aid to produce tooling but we believe our ongoing training and in depth knowledge of the 3D environment means we have taken tool making to a new level. To us, it's not just a visual aid as we also design products to customer specification or work hand in hand with in-house designers and engineers on a wide platform of formats.

"Everything within the project is handled using the 3D software and Radan from initial concept through to tool manufacture. Our service extends beyond the norm for our customers as we will produce tool models within an assembly of the moulder's own machine / parameters to calculate weights and analyse collision detection. FEA (finite element analysis) is also available on request for product analysis. Product assembly models can also be generated to test part stacking and part configurations if similar parts are to be produced around a common theme. This means the manufacturer gets a tool that is fit for purpose.

"I invite the end-customer's designers to visit us so they can see what Radan and STS are capable of and how we will manufacture the moulds. Very often they will leave with a refreshed train of thought and understanding of how their products are built as a steel mould, and will sometimes design their products in a different way to make full use of the complexity that Radan enables us to provide. This prevents any misinterpretation of information down the line, as in a design driven industry we work and adhere to strict deadlines. The approach works extremely well to the benefit to the moulder and customer, as they have said our moulds go straight onto the machine and start producing."

A recent ex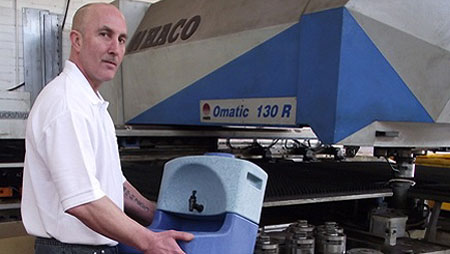 ample of the toolmaker-moulder-customer communication process involved a suite of moulds for the KiddiSynk children's hand wash system which works without plumbing or electricity. At the moulder's request John Blewitt liaised directly with Teal, the company developing and selling the product, as well as with the rotomould customer producing the plastic components from the moulds, JSC Rotational Ltd. The product parts to be produced were quite complex and at the near final concept stage had become too commercially expensive for cast aluminium tooling which had been a high consideration, given that the product would be used in the public domain and had to be of the highest visual quality.

JSC and Teal visited STS, where all relevant files and configurations were downloaded. Following an in depth discussion, some aspects of the product were re-designed during the day by STS who were also able to demonstrate how the tooling would be made by accurately cutting and bending the steel into the component parts using the Radraft and Radpunch software.

"This project demonstrates that STS are able to produce steel moulds to rival aluminium counterparts in every way. In this case, Teal had undertaken extensive design work and completed a promising product viability study. Frustratingly, excessive aluminium tooling costs had stalled the project. Due to STS the project was back on track and has now been successfully completed!" says John Blewitt.